I hope you'll forgive me for inserting a little commercial here. :-) Over at our home site, MaidensOfVirtue.com, I've marked down my custom-made boa scarves for the chilly weather season!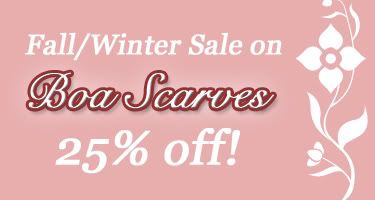 These fun scarves are warm and feminine and a stylish accessory to add to your fall and winter wardrobe. Hand-crocheted in a cozy homespun yarn in the color of your choice, they make great gifts or get one for yourself! (Or both! Hee hee).
If you are interested in a different type of yarn, like a chenille or chunky yarn for example, just let me know and I'll see what I can do (this may cause the price to be different depending on the yarn).
Please feel free to pass this on to your friends and family who may be interested, or if you're REALLY excited (as I'm sure you all are :-) ) you can post it on your blog. Want that cute graphic? Here's the code (will be deleted after the sale is over):